1. <![endif]> Introduction
Morel mushroom cultivation training has now begun at the largest China morel production site in Northern China. The training on offer is both theoretical and practical and allows students to gain a comprehensive understanding of China morel production. The training will give each student enough knowledge and experience to take away and start producing their own China morel mushrooms.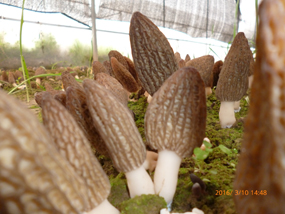 The training course is overseen by Morel expert?Jia qianyi, a master of Chinese edible mushroom production. Jia qianyi graduated from the Hebei Agricultural University and has been researching edible fungi for nearly 40 years. He has vast amounts of edible mushroom production experience and is one of the most experienced China morel experts in China. Over the last 30 years, Mr Jia qianyi has travelled all over China to collect resources such as wild China morel, China morel strains and mushroom production techniques as well as processing and marketing techniques. Which led to discoveries such as where to grow and what methods work at different times of the year. Research has illustrated that there is a difference in production methods between the North or China and the South of China. Realising this resulted in higher production yields and better produce. 
<![if !supportLists]> 2. <![endif]> Training content
<![if !supportLists]> (1). <![endif]> Separating the strains.
<![if !supportLists]> (2). <![endif]> Methods of identifying and making parent species, original species and cultivars (First-class, second-class and tertiary) of Morchella.
<![if !supportLists]> (3). <![endif]> What risks are present within the China morel industry and how to avoid them.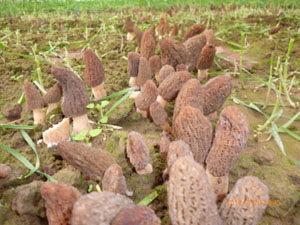 <![if !supportLists]> (4). <![endif]> The development of the trend towards China morel in China. 
<![if !supportLists]> (5). <![endif]> How to reduce the production costs associated with producing China morel.
<![if !supportLists]> (6). <![endif]> The production method and function of the nutrition conversion package. 
<![if !supportLists]> (7). <![endif]> The role of China morel Conidia.
<![if !supportLists]> (8). <![endif]> How to solve the problem of heavy mites in the production process of of China morel.
<![if !supportLists]> (9). <![endif]> The six major factors for successfully producing China morel (Temperature, Humidity, Ventilation, Light, pH and Nutrition)
<![if !supportLists]> (10). <![endif]> The best process for planting China morel in the Northern region. 
<![if !supportLists]> (11). <![endif]> How to increase production yield of China morel in the region south of the Yangtze River.
<![if !supportLists]> (12). <![endif]> Analysis of the best times for sowing in different regions. 
<![if !supportLists]> (13). <![endif]> Key factors affecting China morel production.
<![if !supportLists]> (14). <![endif]> Why is it that the fastest growing temperatures of the Morchella species is not the optimal temperature?
<![if !supportLists]> (15). <![endif]> Why it is important for growers to make their own strains and do not rely on purchasing strains. 
<![if !supportLists]> (16). <![endif]> Specific methods for reducing the production cost of nutritional conversion packages. 
<![if !supportLists]> (17). <![endif]> Key technologies and process flow for the conversion of China morel. 
<![if !supportLists]> (18). <![endif]> Prevention and control of pests and diseases during the cultivation of China morel.
<![if !supportLists]> (19). <![endif]> What kind of soil is used in the production of China morel?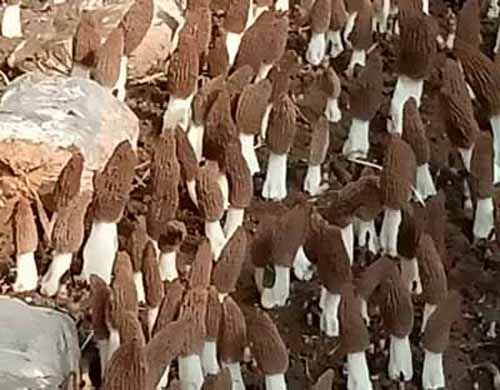 <![if !supportLists]> (20). <![endif]> The processing of China morel.
<![if !supportLists]> (21). <![endif]> The immediate processing of China morel - the deep processing of China morel. 
<![if !supportLists]> (22). <![endif]> The best cultivation methods of China morel in the South. 
<![if !supportLists]> (23). <![endif]> Problems and solutions for cultivation of China morel in the Northeast and northwest region. 
<![if !supportLists]> (24). <![endif]> Inheritance and breeding of China morel. 
<![if !supportLists]> (25). <![endif]> How to improve the economic benefits of the China morel project
<![if !supportLists]> (26). <![endif]> Invest about 5000 yuan, the establishment of the method of the China morel strains. 
<![if !supportLists]> 3. <![endif]> The Operation.
For all types of edible fungi, the production experience is far more important than any theoretical knowledge. For the China morel industry, this is especially true. So to become efficient at China morel production one should have theoretical knowledge but MUST have practical experience at all stage of China morel production. Our training provides both theoretical and practical training, however the main focus of our training is based on teaching students how to problem solve China morel cultivating and production issues. The actual operation mainly includes: Strain separation, mother seed production, original seed production, production seed production, nutrient conversion package production, mixing, bottling (bagging), sterilisation, cooling, disinfection, inoculation, cultivating and sowing. Practice and experience has shown that theory alone is not enough and that practical experience is critically important to success with producing edible fungi. Therefore all students are required to undertake relevant practical learning. 
<![if !supportLists]> 4. <![endif]> Tailored planting mode.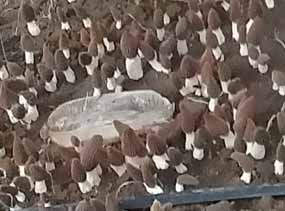 Our students have come from all over the country. Some students form the North and also some students form the South. As the climates vary from North to South, so do the cultivation methods for each climate. Students undergo specific climate or region training and have a different cultivation mode taught to them to ensure success in their region. This ensures a good return on students cultivation through increased efficiency. Our aim is to create a customised cultivation mode for each individual student so that they can grow their own small China morel field in their area to supply locals and other farmers. Our slogan is " After students go home, they can drive the surrounding villagers to develop the China morel industry once they have graduated." If this is not the result then our training was not successful. 
<![if !supportLists]> 5. <![endif]> Problem solving.
Once students have completed their training and have returned home. Additional support is available for students should they have any technical or production issues. If a student has any marketing or distribution issues, we can use our extensive resources in the edible fungi industry to try and assist students. We will always endeavour to help as much as we can. For problems, we can be contacted by telephone. We will do our best. However, if students problem cannot be solved on the phone, problems can be directly solved by Professor?Jia qianyi.
<![if !supportLists]> 6. <![endif]> Product sales issues.
Professor Jia qianyi is an expert on the Chinese China morel industry and believes that the areas in which China morel are planted area increasing in size and therefore the total output is also expanding and that this will drive China morel prices down to some point. Professor?Jia qianyi believes that this supply increase will not have a major negative impact on prices as China morel cultivation still has many conditions placed on it. We therefore cannot guarantee that students will produce high-priced produce, but we promise to connect students through introductions of 2-3 China morel distributors. Pricing will most likely be in order with the market at the time. For regular students we will keep a file on their progress and when students have their next years expected yields, we will help those students contact purchasers in advance to assist student to sell their product. 
<![if !supportLists]> 7. <![endif]> Study time.
  Training courses run for 7 days and start every month on the 8th, 18th and 28th. Two of the seven days are taught by Professor Jia qianyi personally where he can answer technical questions by students. Three days focus on the actual production of the China morel species and the production of the conversion package of the China morel. The other two days, students have the opportunity to see first hand out at farms how things are done. 
<![if !supportLists]> 8. <![endif]> Training location.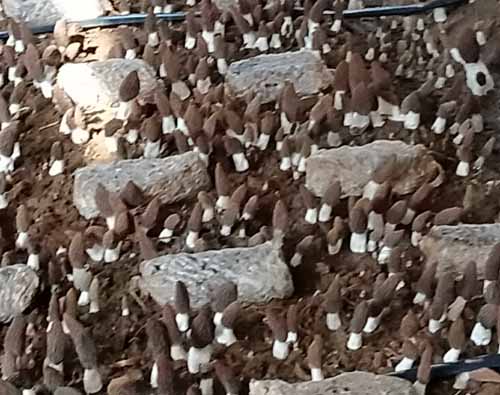 Training is conducted on-site so students can see first hand the production of China morel. Students can observe greenhouse cultivation and other stages of production. As mentioned earlier, practical experience is extremely important and training on site is ideal as what is being taught in class can quickly be shown on site. The production technology of the Morchella species and also the training and internship location of the Morchella planting technology is: Fuyang, Henan Province. The contact number is: +8613691103472 +8613366699818. The contact is teacher Liu. Please call Ms Liu in advance before you come. To ensure a quality learning experience, classes are limited to 5 people at a time. 
9.The cost of cultivation of China morel for foreigners come to China to study:
We use the cost of returning from the airport to the airport, the total cost is 78,000. 78,000 includes: airport transfer fee, transportation fee, accommodation fee, meal fee, internship fee, training fee, strain fee, translation fee.
10.  Production Technology.
Currently the practice of producing China morel is that you create your own strain of the China morel. If you purchase a strain form the field and try and produce it yourself from this strain, you will most likely be unsuccessful. The China morel industry is quite large and you will never produce more than you can sell. The price of China morel is high and so to is demand. You can make good profit from China morel production. Some colleges and papers will tell you that producing China morel yourself is hard. This is not the case and with our training, it will be straightforward. We will teach you what you need and an investment of 5000 yuan is needed for equipment. We will teach you to produce high-quality China morel species and we will also supply students with the China morel species of China morel. 
<![if !supportLists]> 11. <![endif]> Visit the site.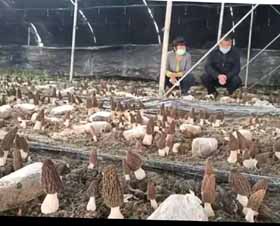 On site we will show you the quality of the product, the variety of China morel and what equipment and techniques are used in the production of China morel. We are growing China morel year round so access to China morel is good. 
<![if !supportLists]> 12. <![endif]> Contact.
The only contact person for the training of the China morel artificial open-air cultivation project in our department is Teacher Jia. The only contact number is
+86
1
3691103472 +8613366699818
. If the phone number cannot be called, a text message is possible. Teacher Liu will contact you in time. We welcome everyone to inquire about our China morel training program. Thank you.